Hookeroon:
The Woodchuck Hookeroon is a high quality traditional tool used in  mills or firewood gathering. The finger nub grip adds grip strength  while helping the user index the pick.
firewood gathering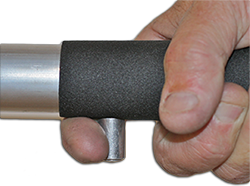 The new Finger Trigger allows the user
to use a lighter grip resulting in less grip
fatigue, it also allows the user to know
where the pick end is pointing at all times.
It has been tested by a large saw mill
with positive results.

6061 aluminum construction

1 3/4 lb.

32" long

high strength ultra hard stainless steel pick

lifetime warranty

made entirely in the USA
$49.00